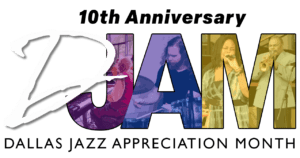 Presented by a local volunteer collection of jazz presenters, educators, and supporters including the Sammons Center, Dallas Jazz Appreciation Month (D'JAM) is a month-long celebration of jazz venues, artists, legends, and rising stars who call North Texas home. Since 2013, D'JAM has been held each April as part of the Smithsonian's initiative, Jazz Appreciation Month (JAM), and presents various events celebrating jazz in the North Texas area. This year, D'JAM celebrated its 10-year anniversary with two special events uplifting jazz in North Texas including jazz film screenings in partnership with the USA Film Festival and the first-ever Jazz Stroll in the Dallas Arts District.
For the last several years, D'JAM and the USA Film Festival have partnered together to showcase free screenings of jazz-related films, offering a unique opportunity to learn about the history of the art form through cinematic storytelling. Presented this year were ELLIS, a documentary about the late NOLA jazz pianist, educator, and patriarch of the Marsalis family, Ellis Marsalis, and Bonnie Blue, a documentary about the struggles and impact of the legendary blues musician James Cotton. In attendance for ELLIS was filmmaker Sascha Just and jazz trombonist/son of Ellis Marsalis, Delfaeyo Marsalis. Sammons Jazz Artistic Director Arlington Jones led a post-screening Q&A discussion, opening the floor to learn first-hand about the life and legacy of Ellis Marsalis who passed away in 2020.
This year we also held our first-ever D'JAM Jazz Stroll in the Dallas Arts District. Through partnering with the Dallas Arts District Foundation, we were able to host 9 different ensembles at 8 different locations along Flora St, the main street in the Dallas Arts District, and in doing so, offered the opportunity to celebrate and sample the jazz of Dallas for FREE to hundreds of people. What better way to spend a sunny Saturday in April than listening to the soundtrack of the Dallas jazz scene set against the backdrop of the downtown skyline?
[layerslider id="19″]
During this day of jazz, we also hosted our annual Jazz Legends Awards Ceremony at St. Paul UMC to honor 4 different individuals in 4 distinct categories for their incredible contributions to the landscape of jazz in North Texas. This year we honored Mario Cruz – Jazz Artist, Judy Watson – Jazz Benefactor, Paris Rutherford – Jazz Educator (Posthumous), and Daniel Jones – Jazz Innovator. Lynne Rutherford, wife of the late Paris Rutherford, was in attendance to accept his award.
[layerslider id="20″]
All in all, the music, weather, and company made for a fine day in the Dallas Arts District and we were delighted to spend the month of April celebrating jazz in our city. Thank you to everyone who was able to come out and celebrate with us! Until next year!
https://sammonsartcenter.org/wp-content/uploads/2023/05/DJAM-Logo-10thAnniversary-BlackOutline-5.png
675
1279
Kara Walton
https://sammonsartcenter.org/wp-content/uploads/2018/01/Official-Sammons-Logo_PNG-1030x689.png
Kara Walton
2023-05-26 16:45:24
2023-05-26 16:47:02
Celebrating 10 Years of Dallas Jazz Appreciation Month